Culinary Resource Team
We know that building a successful restaurant business in today's market is a challenge. You need an entire crew of culinary experts to guide you in everything from food costing, to menu development, to inventory control, to sanitation.
Introducing Ben E. Keith's Culinary Resource Team. Our group of dedicated, experienced, highly-regarded professionals are waiting for you. These trusted advisors will provide custom solutions tailored specifically to your business needs.
TRUSTED ADVISORS PROVIDING CUSTOM SOLUTIONS
Meet the Team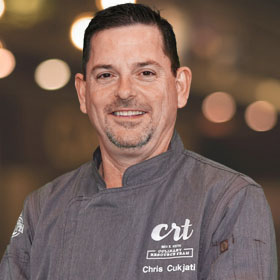 Chris Cukjati
Aged: Joined Ben E. Keith in 2013
Blend: San Antonio Division's Executive Chef by title but serves in many capacities. Chris is a Markon Chef for 2017-2018 and has been involved in both High School culinary competitions and TCA events. In 2016, 2017, and returning in 2018, he is the guest Chef for Berkman's Pavilion at The Master's Golf Tournament in Augusta.
Infuse: Menu development, profitability issues, food cost, labor costs, and back of the house efficiencies.
Favorites: "Kosher salt and freshly ground black pepper. Silpat, ricer, parchment paper, Angelo Po Combi Oven, and a paper towel roll."
Whisk: "Good food is good food. If the right ingredient or cooking method works use it. Keep learning and push yourself to be better!"
Location: San Antonio
---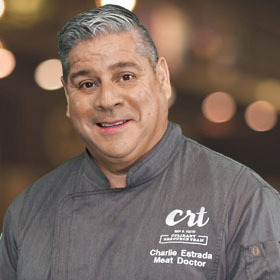 Charlie Estrada
Aged: Joined Ben E. Keith in 2008
Blend: With more than 25 years' experience in Center of the Plate products specifically, and the entire foodservice operation in general, Charlie has earned the reputation of "The Meat Doctor", diagnosing the customer's operation, offering consultative solutions, menu innovation, analysis, preparation techniques and much more. Following in his father's footsteps, he has a passion for helping customers to succeed.
Infuse: Food costing, inventory control, and sanitation
Favorites: "Olive oil a must; sharp butcher knife"
Whisk: "Put passion on the plate."
Location: Gulf Coast
---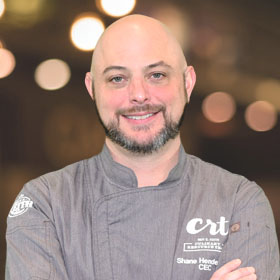 Shane Henderson, CEC
Aged: Joined Ben E. Keith in 2009
Blend: Executive Chef for Ben E. Keith Foods, Mid-South Division in North Little Rock, where he lends his expertise to independent restaurant operators. Shane also helps organize and support Ben E. Keith's many philanthropic activities with a variety of area non-profit organizations. He graduated from Johnson and Wales Culinary School and continued to hone his culinary and management skills.
Infuse: Food costing, inventory control, and sanitation.
Favorites: "Heavy duty plating spoon, and a cast iron skillet."
Whisk: "Simple is far superior to complicated, you get too many items on a plate/menu/kitchen/life everything ends up muddled."
Location: Mid-South
---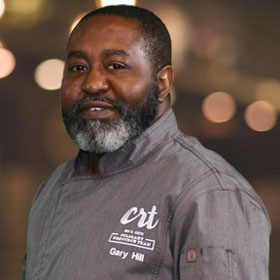 Gary Hill
Aged: Joined Ben E. Keith in 1998
Blend: District Sales Representative, Produce Specialist, and currently as Division Chef. He has a passion for food and loves to share his knowledge of it with our sales force as well as our great customers.
Infuse: Menu development, product safety, food handling, and market trends.
Favorites: "Garlic and an immersion blender."
Whisk: "Ingredient-driven. Seek out the freshest most sustainable products available. Focus on making a single ingredient the star of the dish."
Location: Gulf Coast
---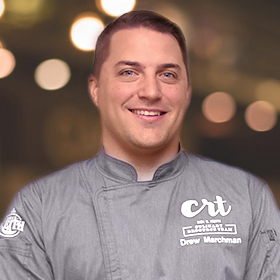 Drew Marchman
Aged: Joined Ben E. Keith in 2019
Blend: Drew is a graduate of the Art Institute of Charleston with a focus in Culinary Management. He holds over 15 years of experience that range from both restaurants and food distribution. He hopes his blend of both culinary and consulting experience allows him to be a true partner with restaurateurs.
Infuse: Bridging the gap between the front and back of the house, multi-platform marketing/branding, true understanding of profitability, and menu development with on-trend solutions.
Favorites: "A well-seasoned cast iron skillet, southern comfort food, and Alabama football.
Whisk:"When an item is perfect, there's no need to throw your ego at it … your job is just not to mess it up. Keep it simple and don't substitute complexity for taste."
Location: Southeast
---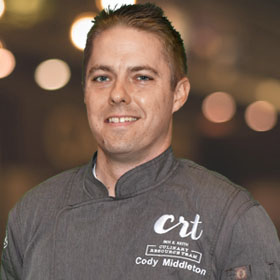 Cody Middleton
Aged: Joined Ben E. Keith in 2018
Blend: Dallas Culinary Institute, with honors, and 14 years of experience from street food to white tablecloth
Infuse: Center of the plate, menu development, food and labor costing, and sanitation
Favorites: "A sharp knife and sturdy tongs accomplish all tasks."
Whisk: "Never let a tomato get the best of you, everyone can cook. No surrender!"
Location: New Mexico
---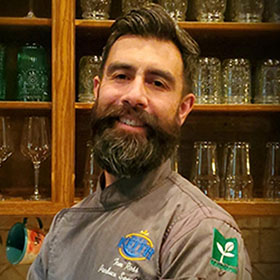 Tom Ross
Aged: Joined Ben E. Keith in 2010
Blend: Operations + Produce quality assurance = passion for produce specialist.
Infuse: Assisting our sales team and customers on all things produce - purchasing, storage, handling, and safety.
Favorites: "Chili peppers for the flavor/heat spectrum - a little can go a long way! Apples, just so delicious and thousands of varieties! Fresh herbs, and every mushroom I've ever met!"
Whisk: "Fresh is best... Don't fight Mother Nature; Embrace Seasonality."
Location: Oklahoma
---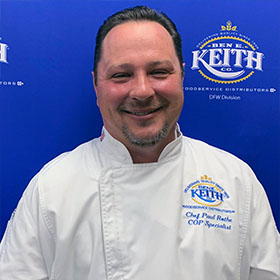 Paul Rothe
Aged: Joined Ben E. Keith in 2001
Blend: Chef and center of plate specialist DFW. Member of TCA and ACF. Helped customers with Super Bowl, national championship game, NASCAR, breeders cup, concerts, steak cook-offs, chili competitions, Bbq competitions.
Infuse: Show profitably in center of plate, train staff on proper cooking procedures, menu development, cross-utilization and inventory control, food/labor cost, front of house sells training and menu identification
Favorites: "Outdoors and the tasty harvest on what it provides. Garlic, smoke, sharp knives, aged beef, compart pork!"
Whisk: "Start with great ingredients, simple but proper cooking procedures and you'll never go wrong!"
Location: Dallas / Fort Worth
---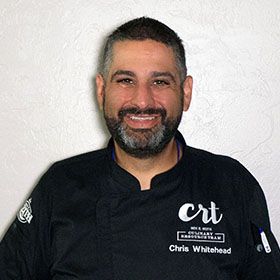 Chris Whitehead
Aged: Joined Ben E. Keith in 2019
Blend: With more than 20 years of experience in foodservice, Chris brings a lot to the table. He spent 9 years as a restaurant operator and 11 years as a broker. He brings his culinary strengths to the team, is never afraid to ask questions, is driven to provide opportunities for team success, and is always open to new ideas to make his work the best it can be.
Infuse: New trends, proper food handling, menu development, and reading the customer.
Favorites: "Sharp knives, fresh ingredients, and using food to create a story."
Whisk: "Talent wins games, but teamwork and dedication win championships."
Location: Oklahoma
---