Gulf Coast
Locations Details
Phone:
832.652.5888
Gulf Coast
1 Ben E. Keith Way, Missouri City, TX 77489
Delivery Address: Cravens, Missouri City, TX
General Manager
Mike Needham
Assistant General Manager
Clint Weber
Assistant General Manager
Jerry DuBose
About Gulf Coast
Ben E. Keith Foods is proudly shipping product from our newly completed distribution center located in Missouri City. This new facility services the Greater Houston area, southeast Texas, and Southern Louisiana food service markets. This facility boasts four automated storage and retrieval systems, eight temperature controlled warehouse zones, and the latest innovations in technology. The branch office is a LEEDS Gold building. The delivery fleet and material handling equipment is all newly purchased. Over 17,000 items are available to our customers from this distribution center fulfilling any foodservice operator's needs. We are working as one and proud to serve our customers.
The Gulf Coast continues to lead in LEED with new LED energy saving lighting
BEK Missouri City from U.S. Energy Lighting, Inc on Vimeo.
"WORKING AS ONE"
"Working as One" is the name of the bronze that visitors encounter upon their arrival at Ben E. Keith Foods Gulf Coast Division.
The bronze was cast in 2013 by Texas artist Jack Bryant Jr. upon the opening of Ben E. Keith's newest facility. It depicts rider and horse "working as one" to cut the calf from the herd. The concept of "Working as One" captures the spirit of unity,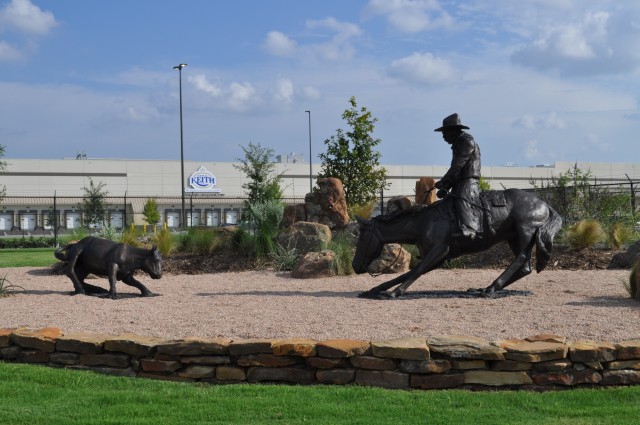 focus, purpose, and cooperation embraced by the Gulf Coast Division.

"Working as One" we embark together to grow our business, endear our customer and supplier trading partners to us, and to reach each person's full personal and professional potential.
Related News