The party starts on Tuesday, March 26th, at the Triple Sevens Club at 5:30pm for our kickoff party. At the kickoff party you will get a sneak peek & taste of some of the items that will be featured at the food show the next day. Get to bed early so you will be up at 9:00am to hear, Darnell Holloway, from Yelp Business, discuss, "Creating Experiences that can't be Delivered". Promptly at 10am the show floor doors will open, so be prepared to find everything you need to Create, Cook & Clean.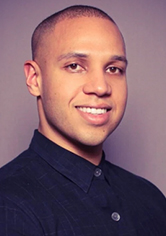 Keynote Darnel Holloway
Darnell Holloway is Yelp's Director of Business Outreach. Darnell joined Yelp in 2009 as one of 12 Account Managers at Yelp HQ in San Francisco. After relocating to Scottsdale in 2010 as part of the team that founded Yelp's Arizona operation, he was was promoted to begin working more closely on building up Yelp's Business Outreach efforts. As the Director of Business Outreach, he oversees a North American team dedicated to building communities and educating small business owners across the country about strategies for success in a feedback driven economy.
He comes from a family of small business owners and is passionate about working with the local business community. He is a California native, and UC Davis alumnus.