Louisiana Food & Equipment Exposition 2016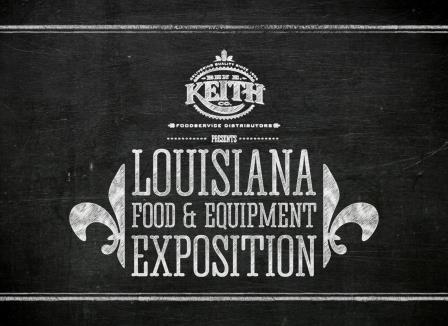 DATE: February 17, 2016

LOCATION: Baton Rouge River Center, Hall 1&2
275 South River Road
Baton Rouge, LA 70802
Agenda
Louisiana Food & Equipment Exposition 2016
Customer/Vendor Appreciation Reception
LOCATION: The Lyceum Ballroom
124 3rd Street
Baton Rouge, LA 70801 Map
TIME: 6:00pm - 9:00pm
Louisiana Food & Equipment Exposition 2016
10:00am – Show Doors Open
10:30am – 1st Cajun Cook-Off Competition
12:00pm – 'Innovations in Mobile Ordering & Payment Systems' presented by Chris Meaux with Waitr
1:00pm – 2nd Cajun Cook-Off Competition
2:30pm – 'Social Media Impact & Online Reputation Management' presented by Emma Vaughn with Main Street Hub
4:00pm – End of Show
Customer/Vendor Reception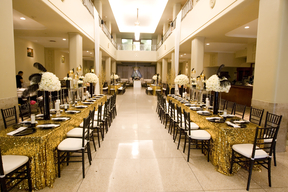 All customers and vendors are invited to enjoy an evening of great food and live music!
DATE: Tuesday, February 16, 2016, 6:00pm – 9:00pm
LOCATION: The Lyceum Ballroom, 124 3rd Street, Baton Rouge, LA 70801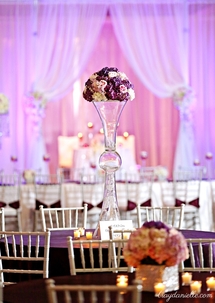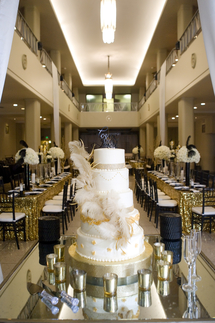 Show Details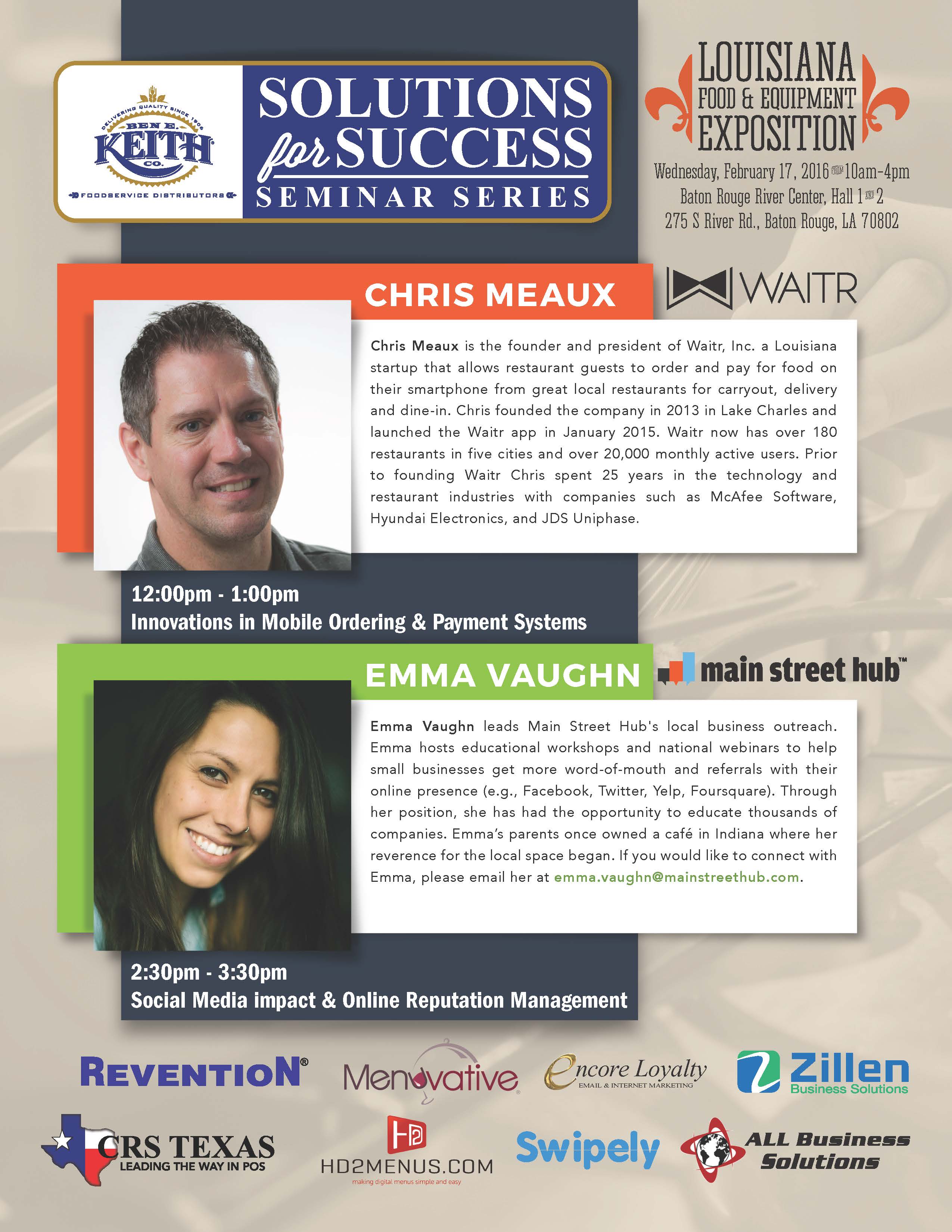 Solutions for Success Seminar Series
Join us for two dynamic seminars where we will be discussing 'Innovations in Mobile Ordering & Payment Systems' and receive advice on 'Social Media Impact & Online Reputation Management'. Click here for the details.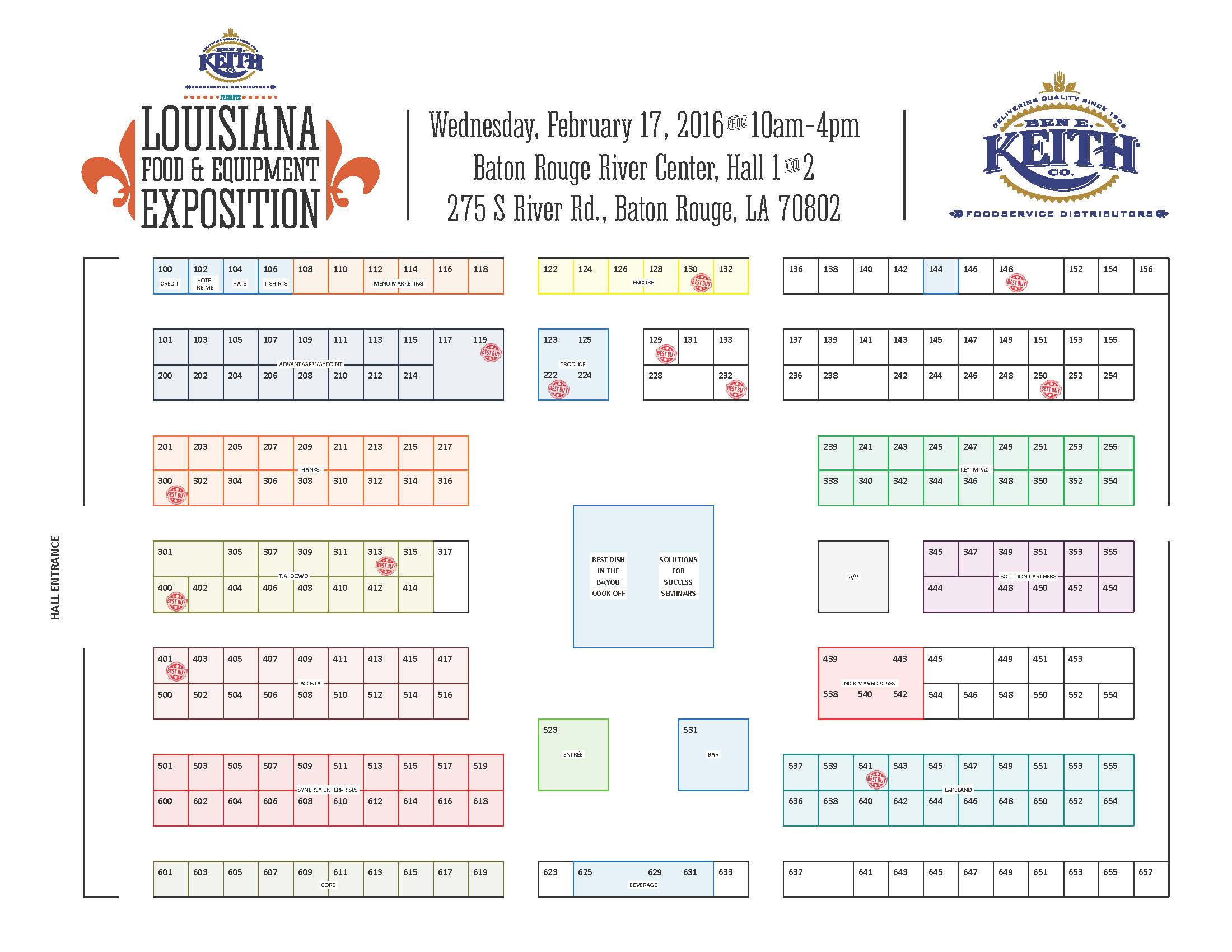 Floor Plan & Exhibitor List
Click here to see the floor plan and the complete list of exhibitors for the Expo.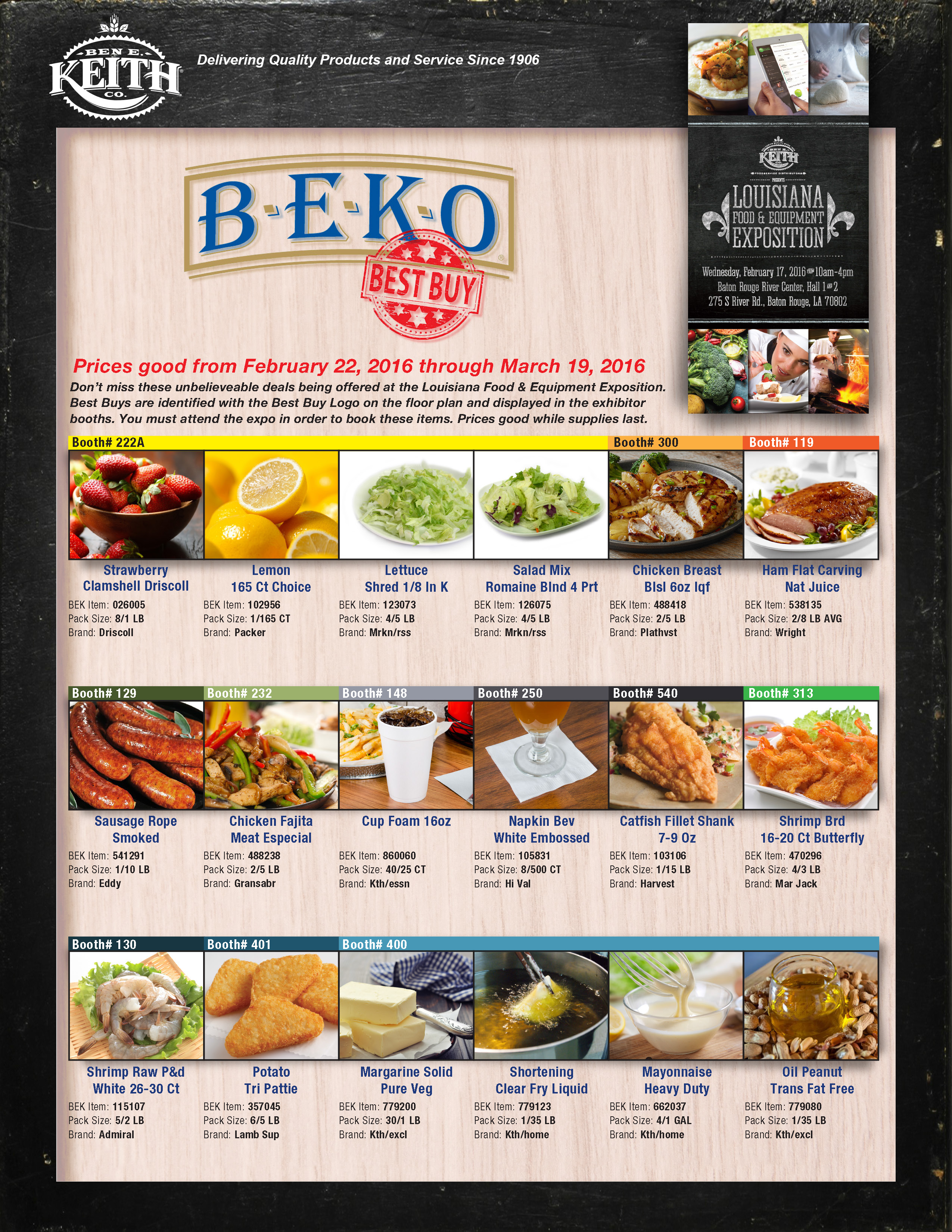 BEKO Best Buys
Click here for a list of the BEKO Best Buys that will be featured at the Expo.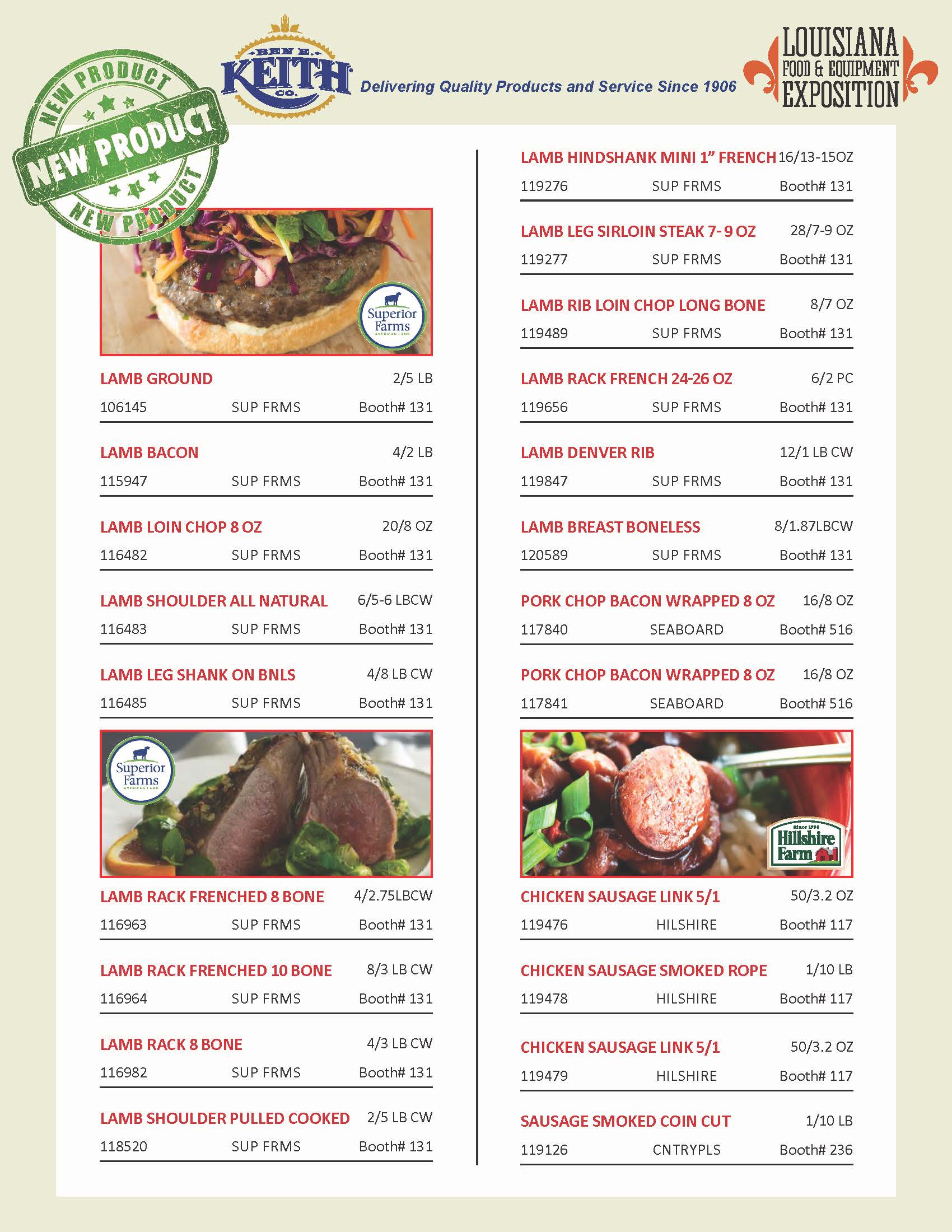 New Featured Products
Click here for a list of some of the new products that will be featured at the Expo
Competitions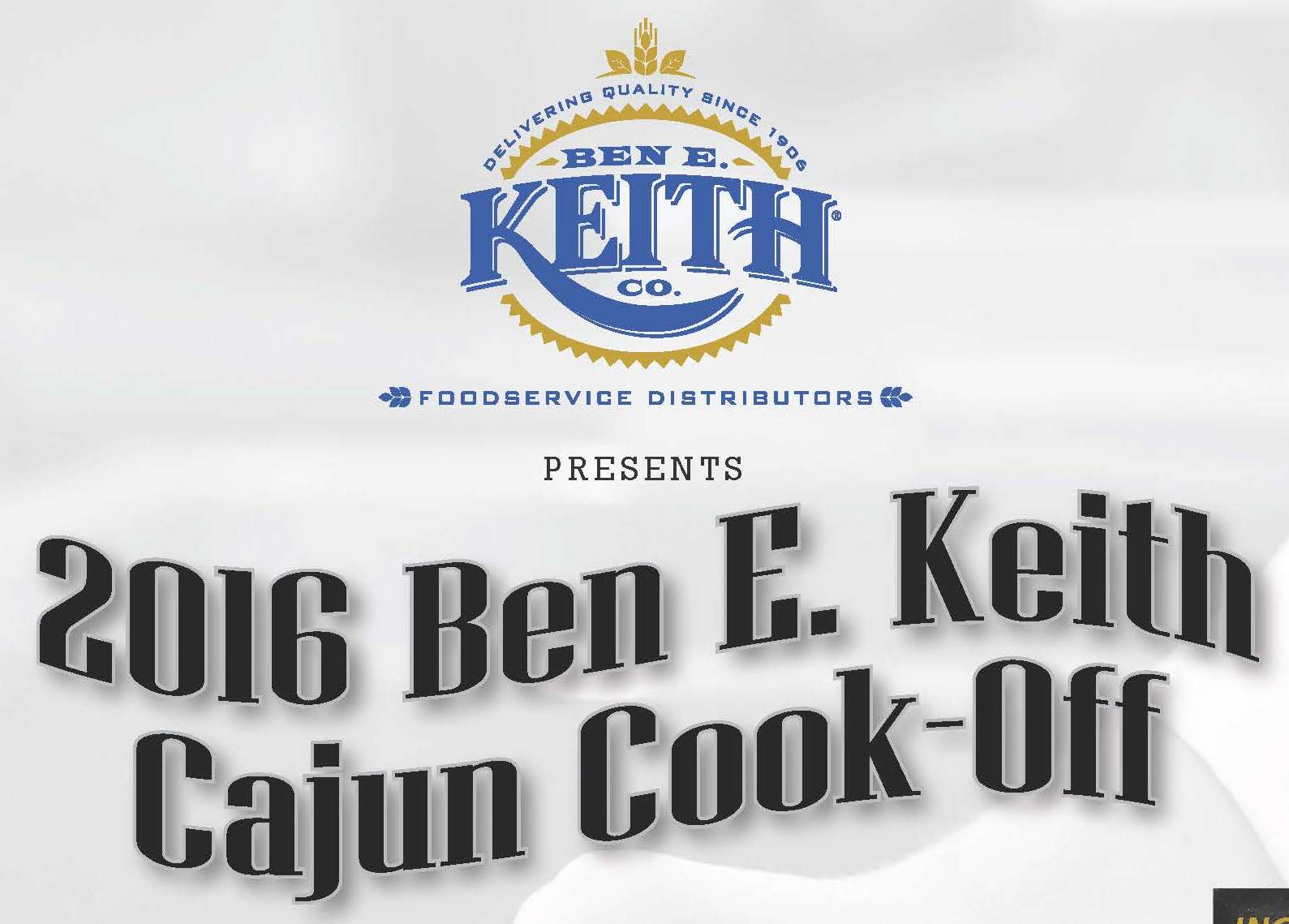 Cajun Cook-Off Competition
Come see the culinary talent as 8 local top chefs compete in two competitions. For each competition, there will be one 'Best Dish' winner chosen by the distinguished judges.